Polyurethane Panels
Polyurethane panels are an excellent thermal insulation solution with low cost and special aesthetics.
They are designed to cover mainly the roofs of buildings, while they can also be used in many other applications such as canopies, pergolas, parking, sports facilities, metal buildings, cabins, prefabricated houses and many more constructions.
Compared to traditional tiles, they have significantly less purchase, transport and installation costs, while they are fully heat-insulating and moisture-insulating.
They consist of two shaped and galvanized sheets which are additionally primed before being painted.
Among them is rigid expanded polyurethane foam, with a system that uses pentane as a blowing chemical additive and not chemicals enriched with hydrochlorofluorocarbons that destroy the ozone layer of the atmosphere.
The foam is odorless, does not allow the creation of mold and fungi, remains chemically neutral, and moisture does not alter its mechanical properties. In addition, it is not flammable and is suitable for buildings with fire resistance requirements of their structural elements. Finally, it does not spread fire, is difficult to ignite, has minimal smoke production and does not produce flammable or non-flammable particles.
Variety of colors according to RAL
Length: 2 – 12 meters
Thickness: 20 – 100 mm
Coverage: 1 meter
Roof Polyurethane Panels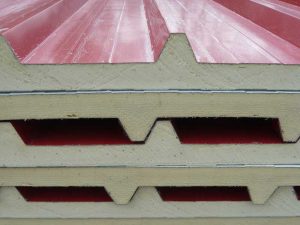 Wall Polyurethane Panels